Intermission
Last time on Beginner's Guides:
If you've done that correctly, it should only take you a dozen tries or so. When you eventually beat Verdies, go back and talk to Owen, and he'll tell you to find the old man with heart diseases on the Borealis Shipwreck, in the second sea.

Look around on cumulus, and you should see a group of icy islands, behind that is a slightly transparent blue wall marking the teleport to the Second Sea. Set sail to thee wall and go through it, and you will be teleported to the Second Sea and will spawn on the Borealis Shipwreck.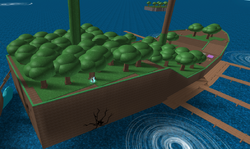 The Borealis 200 years ago was a merchant ship but was attacked by the One Shot Pirates... Screw this, you probably won't want to know the lore anyways.
The Borealis Shipwreck is the "island" you would spawn on when you first arrive at the Second Sea, unless you came here before reaching level 100. Still matching with its history, the shipwreck has the biggest concentration of shops across the entire Second Sea, and is the only palce to sell Borealis 300 lb. cannonballs, which is the msot powerful and expensive type of cannonball.
The old man with heart diseases is waiting there for you under the ship's central mast. Or pillar if you don't know naval terms. Talking to him will give you the next main quest, "Trial of Endurance". Fitting name, since you need to defeat 100 Gunslingers which will take forever.
Feel free to spend some money on the shipwreck or do the side quests, or climb around looking for chests before you set off to Oblitesco.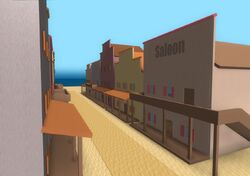 Oblitesco is by far, the largest single island you've seen. Heck, it is the size of like four Borealises. Feel free to roam around this Ol' Wild West styled island. Be careful though, its inhabitants has a tendency of shooting you on sight.
Oblitesco is inhabited by Gunslingers, and as suggested by their name, are armed with Flintlocks, making them rather dangerous as they can kill you quite easily in just a few shots. However, it is also roughly during this period you unlock the ability to use magic weapons, which are very powerful and useful.
Once you finally finish your multi-day grind, you will be asked to find Theos inside the saloon, which is conveniently placed in the aggro range of FOUR gunslinger spawns. This part is actually harder than the actual grind because you need to talk to Theos while lead bullets are flying at you, and you really shouldn't do this unless you have the health or a friend to dispatch them for you.
go fight a women Dawn's Refuge
Theos will ONCE AGAIN ask you to go somewhere, in this case, Dawn's Refuge.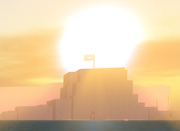 ...
Why do I hear boss music?
Well because it's the spawn for level 200+ players that can kill you before you even realize what's happening.
Jokes aside, Dawn's Refuge is where the inhabitants of Altavista fled to when pirates attacked them.
Yeah just go talk to the Mayor and get the quest. He's at the top of village. Did I mention they live INSIDE the island? Good luck finding the entrance. Oswald (not the font) will ask you to go to Altavista and clap Sage.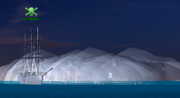 Altavista is an island at the far edge of the map, making it quite annoying to get to if you don't have a max speed sailboat. It's also covered in fog which makes it near impossible to see during the night.
Forget about the lore, the place overrun by pirates which is quite a bit more powerful than you if you aren't the kind that maxes out everything before playing the game. There are three main types of pirates, being the cutlass ones, magic ones and Sage, Emerald Empress.
Magic using pirates are actually deadlier than Sage, since they can swarm up to you at the same time and remove you from existence with their bull████ high damage. One of them even uses Divine Shower, so be careful.
Meanwhile sage. For the first time you're fighting a she. Sage is a lighting magic user, which means jumping into the water to dodge attacks is a bad idea. Head-on, you stand no chance against her and the horde of pirates.
There is a trick though. Climb up to the top of her ship, and from the vantage point, throw [X] (ultimates) and [Q] (if you use a projectile magic) at her. It is cheesy, but it gets the job done.
She drops the Emerald Captain's Set, which are two pieces highly potent exotic rarity armor. They provide great stats even for level 300 players and is a rather valuable trading item. If you get it, keep it, if you don't, it's worth the grind for it.
haha funny trial of strength go brrrrrr
When you finish your quest, you will be asked to find Theos on Ark island, not too far from Dawn's Refuge. It is a good time to contemplate why wou are listening to this old man while you sail to it.
After a conversation, Theos will tell you to go to the arena surrounded by mountains, just behind Judgement Isle, the one with a big flat fighting ground.
Once you arrive to the island, you will realize that HOLY SHIT WHY AM I GETTING ORIBITAL STRIKED AND WHY IS THE SUN FLYING AT ME
Ok, calm down.
Most people who have no idea what the third trial is usually die in confusion. You should stop the ship some distance out and swim the rest of your way. Climb over the mountains, and you will face theos.
Theos, living up to his reputation as one of the strongest man alive, is the most powerful enemy you've encountered by far. He wields three magics: Fire, Sun, Phoenix. Each of them are used to the maximum effectiveness, and all of the attacks can kill you with ease.
Loadout-wise, you should bring magic weapons. The better ones would be the horn, trident, spear and bow. Bazooka works too, but not great for the job.
Theos will hover around the arena, lobbing fireball after fireball (sometimes sheer wind pressure caused by his wings) at you. The fireballs have some lead to it, so it is rather hard to dodge without dashing. There's also the orbital strike thing that can kill you quickly but is easy enough to escape from unless you're stuck.
Suggested tactic? Grab a few friends or randoms who happen to be around for help. I'll let you figure out the rest.
Second Mind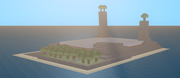 After defeating Theos and turning in the quest to him on Ark Island, you are asked to head to Judgement Isle to unlock your second mind.
If you followed the guide down to the letter, you probably skipped the explaination for what minds are. In a nutshell, second mind=second magic. Remember me saying don't worry about what magic you choose when you first start? This is why.
When you talk to Theos, you will be presented with the same magic selection screen you've seen when you first started.
Magics synergizes with each other, so here's a table on what's the best combinations, along with mutations that you might want to plan ahead for.
Note: Green text denotes good matches, white text denotes decent ones, while red denotes bad ones. (Opinion, not fact)
Second Mind Magic>

First Mind Magic

v

Fire
Lightning
Light
Wind
Earth
Shadow
Water
Fire
Pros:

The magic tiers would be the same.
You can spam the two magics.

Cons:

Pros:

Lightning has 0 travel time, complimenting projectile fire.
Both magics deal high damage.
Lightning does more damage against soaked enemies, which Fire is bad at.

Cons:

Lightning takes long to cast, and consumes more magic energy.




Pros:

Light has 0 travel time, complimenting projectile fire.
Both magics have powerful ultimates.
Fire compliments light's low damage.

Cons:

Light takes more magic energy.

Pros:

Wind has a shorter chargeup time.
Wind projectile has a faster projectile speed, making it easier to hit distant targets.
Wind has a knockback effect.

Cons:

Pros:

Both magics deal great damage.
Earth has a large AoE.

Cons:

Earth takes a long time to cast.

Pros:

Shadow also have a DoT effect that does more damage, and it works underwater.
Shadow is similar to Fire, making it easy to master.

Cons:

Both are projectile magics.
Shadow has relatively low damage.

Pros:

Water gets a buff when in water.

Cons:

Water douses the burn effect from fire, reducing DPS.




Lightning

Pros:

Lightning has 0 travel time, complimenting projectile fire.
Both magics deal high damage.
The DoT effects of both magics stack.

Cons:

Lightning takes a long time to cast, and consumes more magic energy.




Pros:

The magic tiers would be the same.
You can spam the two magics.

Cons:

Pros:

Light takes shorter to cast.
Light is also instant travel projectile.
Lightning Annihilation and Divine Shower is a deadly combo.

Cons:

Both magics have very short ranges.

Pros:

The fast projectile and cast speed of Wind makes it much easier to hit moving targets.
Wind can hit targets from a great range.
Wind knockback can juggle enemies and buy time for Lightning to cast.

Cons:

Wind has a small AoE.
Wind has lower damage.
If inexperienced, Wind knockback can throw off your aim.




Pros:

Earth has great AoE.
Earth does almsot as much damage as Lightning.

Cons:

Both magics take a long time to cast, preventing effective combat when in close range.




Pros:

Edgy factor. (joke)
Shadow has good damage and DoT.
Shadow is a projectile magic, complimenting range-limited Lightning.
Both ultimates are "nuke"s.
DoT of both magics can stack.
Shadow has a better AoE.

Cons:

Pros:

Lightning does extra damage against targets soaked in or by water.
Both magics get a buff when in water.
Water is a projectile magic, complimenting range-limited Lightning.
Water has a better AoE.

Cons:

Light
Pros:

Light has 0 travel time, complimenting projectile fire.
Both magics have powerful ultimates.
Fire compliments light's low damage.

Cons:

Light takes more magic energy.


Pros:

Light is also instant travel projectile.
Lightning Annihilation and Divine Shower is a deadly combo.

Cons:

Both magics have very short ranges.
Lightning takes longer to cast.

Pros:

The magic tiers would be the same.
You can spam the two magics.

Cons:

Wind
Pros:

Fire does more damage than Wind.
Fire applies the burn DoT effect.
Fire has better AoE.

Cons:

Fire takes slightly longer to cast.

Pros:

Lightning does more damage.
Lightning has a better AoE.
Lightning is an instant travel projectile.
Wind knockback can juggle enemies and buy time for Lightning to cast.

Cons:

If inexperienced, Wind knockback can throw off your aim.




Pros:

The magic tiers would be the same.
You can spam the two magics.

Cons:

Earth
Pros:

Both magics deal great damage.
Fire applies the burn DoT effect.

Cons:

Fire cannot be used underwater.

Pros:

Lightning does a bit more damage than Earth.

Cons:

Both magics take a long time to cast, preventing effective combat when in close range.
Lightning has a smaller AoE.




Pros:

The magic tiers would be the same.
You can spam the two magics.

Cons:

Shadow
Pros:

Fire also have a DoT effect that does less damage.
Fire is similar to Shadow, making it easy to master.
Fire does more damage.

Cons:

Both are projectile magics.


Pros:

Edgy factor. (joke)
Lightning has good damage and DoT.
Lightning is an instant travel projectile.
Both ultimates are "nuke"s.
DoT of both magics can stack.

Cons:

Lightning has a smaller AoE.
Lightning takes longer to cast.

Pros:

The magic tiers would be the same.
You can spam the two magics.

Cons:

Water

Pros:

Cons:

Water douses the burn effect from Fire, reducing DPS.





Pros:

Lightning does extra damage against targets soaked in or by water.
Both magics get a buff when in water.
Lightning is an instant travel projectile.

Cons:

Lightning has a smaller AoE.

Pros:

The magic tiers would be the same.
You can spam the two magics.

Cons: